1-ch. video installation, 2:31, HD, b/w, sound
Video still

2-ch. video installation, 5:55, HD, b/w, sound
Installation documentation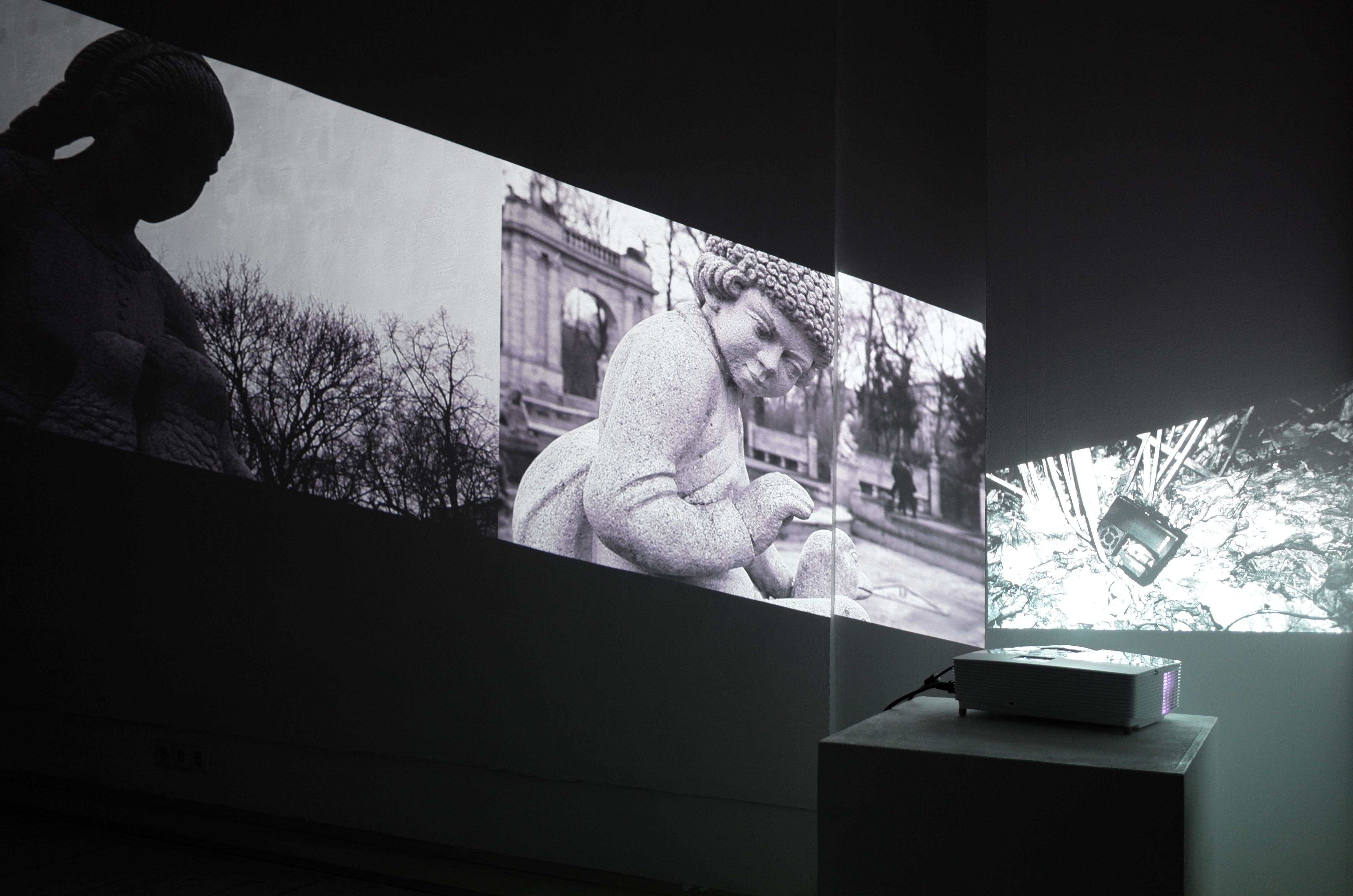 1-ch. video installation, 1:09, HD, b/w, sound

2-ch. video installation, 1:07, HD, b/w, sound
Installation documentation
Study
(1) Circulation and Relfection of Sounds


소리의 순환과 반사

(2) Activation of Temporal Transcendance


시간적 초월의 활성화: 베를린 동화의 분수의 경우를 중심으로


Project description
0 is zero and the circle. 0 is orbit. 0 is a criterion between plus and minus. There is no beginning and no end. The present builds on the past and is guided by the future that already exists. A young tree, rooted in an old cemetery, grows high up and connects death and new life. A dome-shaped tower on the Teufelsberg reminds of the wartime and reflects the voices of the past. Do we exist in the present? Or, do we stand somewhere between past, present and future? Time and space become meaningless in the form of 0. 0 is reflection. 0 is circulation in every direction. 0 is transcendence of time and space.

0 ist null und der Kreis. 0 ist Umlauf. 0 ist ein Kriterium zwischen Plus und Minus. Es gibt keinen Anfang und kein Ende. Die Gegenwart baut auf der Vergangenheit auf und sie wird von der Zukunft geführt, die bereits existent ist. Ein junger Baum, auf einem alten Friedhof verwurzelt, wächst hoch hinauf und verbindet Tod und neues Leben. Ein kuppelförmiger Turm auf dem Teufelsberg erinnert an die Kriegszeit und spiegelt die Stimmen aus der Vergangenheit wider. Existieren wir in der Gegenwart? Oder stehen wir irgendwo zwischen Vergangenheit, Gegenwart und Zukunft? Zeit und Raum werden in der Form von 0 bedeutungslos. 0 ist Reflexion. 0 ist Zirkulation in jeder Richtung. 0 ist Transzendenz von Zeit und Raum.

0은 영이며 원이다. 0은 또한 궤도이다. 0은 플러스와 마이너스 사이의 기준이다. 그곳에는 시작도 끝도 없다. 현재는 과거를 기반으로 구축되고, 이미 존재하는 미래에 의해 인도된다. 오래된 묘지에 뿌리를 둔 어린 나무는 높이 자라며 죽음과 새로운 삶을 연결한다. 토이펠스베르크의 돔 모양 탑은 전쟁을 상기시키는 동시에 과거의 목소리를 반사한다. 우리는 정말 현재에 존재하는 것일까? 우리는 아니면 과거와 현재, 미래 사이 어딘가에 서 있는 것일까? 시간과 공간은 0의 형태로 그 의미를 잃고 만다. 0은 반사이다. 0은 모든 방향으로의 순환이다. 0은 시간과 공간의 초월이다.